by Jeff Booth
The Adult Entertainment Expo in Las Vegas starts in a few days. I've been to quite a few, including writing about them for nine years, so I thought I would take a look back at some of my favorite moments from conventions past.
The earliest shows I attended were not as a sex writer, but back in the day when I was a technology writer. The show was originally part of the mega-convention Consumer Electronics Show. It eventually split off as a separate convention, and is now run by Adult Video News, a trade journal for the adult entertainment industry. Even though they became separate shows, they shared the same venue at the Sands Convention Center for many years.
One year I thought I remembered a short cut through some back stairs that would get me into the AEE main hall from the lower hall, a trip which normally requires going quite a ways around. It worked, I flashed my badge, got past security, and was in the main hall. Except it did not look right. It was a hall for CES, one of many, filled with consumer electronics. I covered a lot of shows like CES, and the overwhelming miles of aisles and the need to fill your head with countless technical specifications reminded me why covering shows like the Adult Entertainment Expo is so much more pleasant.
One of my favorite photos from the thousands I shot was of a CES attendee coming out of the AEE, totally exhausted, dragging a large bag overloaded with items from the show. It summed up the feeling I always had at the end of the day. The show is exhausting, but worth it.

Katie Morgan signs for DVSX in 2005
The long relationship with CES ended in 2012, which I was fine with. That year CES had over 1.8 million square feet of exhibits and 150,000 attendees, and every year it turned Las Vegas into a mad house. The prices of hotels went through the roof, and it was hard to find a room for under $500 a night. One year as both shows kept growing, with AEE expecting 30,000 attendees just by itself, rooms were almost impossible to find. Fortunately, a friend had purchased a very large house as an investment and she had been improving it to flip it. We basically had an entire wing of her extremely large home to ourselves. All my wife and I had to do for her was to take her to a swing party and buy her dinner. It was a pretty sweet deal.
One thing that was consistent across all of the Expos I went to was how hard the adult performers worked meeting and greeting fans for hours on end and going the extra mile to pose, flirt and give the fans a chance to meet them. Almost every single star in the industry showed up. They treated the fans so well and brought so much enthusiasm and good will to the show. Just try being perky, personable and porn star sexy for hours on end. It's exhausting.

Holly Hollywood takes a much needed stretch in the Metro Studios booth. Technically, exposed nipples were not allowed. However, as many Hollywood stars have discovered, certain types of material that appear opaque become quite transparent under a bright enough flash.
I got a chance to appreciate just how exhausting the shows could be for the talent in my very early involvement with the adult industry before I began writing about it. My wife and I had done a threesome scene for an adult video. I was in it, as is so often the case for men in porn, because of my wife. Well, not my wife specifically, but men get in often because they have a sexy wife or girlfriend. We got the gig through our contacts in swinging. She dabbled a bit doing adult videos which she did primarily for fun, not as a career. The company had a big poster up of the video.
We wandered around the show wearing a badge for the company, and she was dressed up in sexy porn star attire. It was very fun to be stopped by the fans of adult entertainment, who were without exception extremely polite when they asked if she would pose for a picture or pose with them. She found it very ego gratifying. It did not hurt my feelings that few people wanted my picture. I mean, maybe somebody could have asked.
When we encountered the adorable Tabitha Stern there to promote her Cinderella line of videos, we already had met. We first met her and her husband just a few months ago when we were all guests on the Jaqueline Lick show. Throughout her career she only did scenes with her husband. At this point she was at the height of her career. She seemed so excited and happy.
Tabitha Stern in 2002
There were many interesting stories I heard chatting with people. One person there with a booth told me that someone had opened a day care center within a certain number of hundred feet from the Convention Center, and that authorities were trying to use that as an excuse to keep exhibitors at the Convention Center from being able to sell adult videos.
Anyone who has had to deal with Vegas authorities know it is the land of random laws dealing with sexual content or products, subject to change on a whim and a moment's notice. It's a Mormon run town, and when it comes to sex, they are a little bit nuts. Lifestyles (an organization for swingers) used to do an annual convention there and it was so restrictive they were not even able to make a commercial video about it because authorities required everyone to cover up more than you would at a dance club. They come in and dictate whatever their latest random interpretation of the law is.
Another story concerned several major exhibitors (and this came from one of them so I believe it is probably true). Several exhibitors had used the same booth designer as he had a reputation for doing quality work. They arrived on the convention floor and their booths were not there. They tried to call him, he says he is sick, and hangs up on them. They track down where he lives and go over there. He comes out with a shotgun and demands that they leave his property. Apparently, he had a serious drug addiction problem. They had to call the sheriff to get their disassembled booths out of his garage, transport them to the convention center, and then figure out how to assemble them. Fortunately, the local Teamsters were very helpful. What a nightmare.
Chocolate at the Multimedia Pictures booth with that gosh darned flash causing trouble again
I got to meet countless adult stars, and several I would never have expected. Nectar Entertainment had Dick Smothers Jr., son of Dick Smothers from the famous comic duo The Smother's Brothers. He was promoting his new line of adult videos having launched his adult performing career in 2003.
While I enjoyed visiting the booths and chatting with the adult stars, my favorite part was still the parties at night. One of the more memorable years had several great parties. Adam and Eve hosted a party at the Palms, the same hotel with the infamous MTV Real World Suite. That suite was host to a previous party for Internext earlier in the week. This was the show for the Adult Internet industry. At this time, there were three major shows, the other being Bondcon for bondage enthusiasts. It was insanely crazy covering all three shows. In the Real World Suite I got to meet and get some sexy photos of Melissa Lincoln, the young woman from Lincoln, Nebraska who had police officers storm into her place of work and arrest her because they found pictures of her flashing on the Internet in a public place. It made her famous, she became briefly one of the top ten most searched names on the Internet.
Now I was back again at the Palms facing a massive number of lines. All of the lines had hot women standing in them. Figuring out which was the line for Rain, which was the line for Ghostbar, and which was the line for the Adam and Eve event in the Little Buddha nightclub took some doing, and quite a few people in all of the lines were confused. I was rescued by a kindly person from the Village Voice, who managed to get me quickly escorted in. Inside was packed. This party was to launch Adam and Eve TV, and featured a stable full of A&E stars.
Brooke Hunter and her husband, Don Hollywood breezed in for some photos. One guy, obviously a bit new to the porn scene, asked his friend to take a picture of him and Brooke. He came back gushing, "Oh my god, she put my hand right on her breast!!!" I had known Brooke for several years. I first met her at a San Fernando Valley dance social for swingers when she was with her first husband. They had started doing Cam work together, but the marriage fizzled out. So too did Don's, who was the organizer of the dance social, which is how she and Brooke met. Her first husband, a very talented musician, wound up with another friend of ours who had been to a number of our parties and was a talented erotic photographer. Don and Brooke got together and wound up being quite successful in the adult industry. I knew her when, and got to see her having sex well before she started doing it on camera.

Brooke Hunter at the Adam and Eve party
Although the club was perhaps a bit small for the number of people, the crowd did make room for those around ice luges in the form of female torsos. The tube came out at the crotch, and it was quite fun watching stars such as Alexandra Silk bend over to suck it up. Some of the girls were just not quite tall enough to bend over and reach it easily, so some gentlemen gallantly lifted them up and held them horizontally so that they could reach.
Although they tried to encourage some of the stars into the back area for pictures, most everyone stayed engaged in socializing. There were go-go dancers aplenty, and one of the Adam and Eve staff, a cute young thing who was normally shy and reserved, decided to get up on one of the platforms to dance- much to the delight of her husband. The female DJ did go topless, but as is the law in Las Vegas, you have to keep the nipples themselves covered, lest they poke out someone's eyes.
 
The DJ goes as topless as the law allows
I could not stay long, though, as I needed to get off to Ice, which was reportedly the largest nightclub in Las Vegas. It was taken over by Michael Ninn's Ninn Worx to promote Fetish Circus, their new film directed by Laurent Sky. This was the fourth Sky fetish themed film, known for their blend of fashion, music and sex targeted to the MTV generation.
It was quite a large nightclub, with several rooms all blasting a techno industrial beat. That and the dim lighting made it difficult to find friends and socialize with them, let alone spot your favorite stars. Many of the names were off in a VIP area anyway, so you could not go elbow to elbow with them as you could at the Adam and Eve event. Of course, Ninn Worx stars such as Wanda Curtis, Anais, Angel Cassidy and Nikita Denise were in attendance and taking on hosting duties at the event, which was co-hosted by Bizarre magazine.
There was plenty of entertainment. Besides some hot go-go dancers, there was a female stilt walker in fetish attire who looked to be about 10 feet tall. Jennifer Collins, a Las Vegas based contortionist and entertainer, managed to turn herself into a pretzel and twist into some positions that could not help but lead to some rather interesting fantasies. There was also a couple who did acrobatics together. I never saw the reported fire eater, but other acts performed throughout the night, including one involving a large upright wheel with fur and handcuffs that I would have loved to see in use.

Jennifer Collins, contortionist at the Ninn Worx party
The next year also had some memorable parties. The first night there were two major events at the Hard Rock, which is now the official venue for AEE. The first was the party sponsored by PurePlay. Held at the huge Body English nightclub, it was a very hot ticket. While I waited at the front of the line with my media pass, two very attractive strippers tried to convince me to bring them in with me by rubbing their breasts against me. I found it persuasive, but alas, the guest list was very exclusive. Even so, and with room for 1200, they quickly filled the place up with the A list. With the girls from PurePlay, a big group from Jill Kelly Productions, Dani Ashe and her group, Seymore Butts and all his people, and countless other porn stars, it seemed like almost everyone in the business was there.
The dance floor was packed with some of the most beautiful women imaginable, and gusts of CO2 occasionally completely engulfed the dancers, leaving it to our imaginations for a few seconds what was actually going on there. The entire place was packed, and going anywhere required you to literally squeeze past an amazing bevy of beautiful babes. I have never been less concerned about my personal space.

Clouds of fog engulf the crowd at the PurePlay party
Across the parking lot at the Hard Rock Café, GhostPro had completely taken over the restaurant for their event. More low key, certainly more quiet without the constant thumping techno beat, and much more brightly lit, this was a party where you could actually meet and chat with people. I arrived just as the wet T-shirt contest started, and the 8 contestants really wanted to win. I was impressed by their winning spirit (or maybe it was simply that the spirit was willing to show so much flesh). Somehow they were able to show a whole lot more than anything that would have been allowed on the show floor.

An enthusiastic Wet T-shirt contest sponsored by GhostPro
There were lots of great parties that Friday night, but I missed most of them since my car hit a road hazard on a flooded street and I blew the tire and had to wait almost three hours for the Automobile Club in nearly freezing weather. I did hear a radio broadcast about how great they were while I was sitting in the car waiting for the two truck.
Vetrigo Video hosted the "Go Hard or Go Home" party at Club OPM in Caeser's Palace. Limelight Productions had a party at the Curves Ultrabar in the Alladin that sounded like a terrific party based on what I heard on the radio. Freedom Distributing had a Wet and Wild Foam Dance at Ibiza. Club Seven seemed to be the place for swingers. I rolled in late to the Lifestyles Tours and Travel hosted party for swingers which was very well attended, mixing both experienced swingers and adult stars curious about swinging. On Saturday at the AME venue, adult star Summer Haze was host to a party for swingers presented by Club Pleasure.
There is quite a bit of crossover between adult video and swingers. For example, adult star Layla Jade worked at the swing club I was an advisor to, a club in downtown Los Angeles that had many adult star attendees. I met her years before that at an AEE press event. She impressed the hell out of me at that event when a reporter (might have been for Entertainment Tonight but I really don't remember now) was interviewing her on camera and asking her trivia questions about American history in an attempt to make her look stupid. Her British accent may have been a giveaway that she might not be an American history expert. Instead of going along and being made to look foolish, she turned it around and asked him some great questions about British history. He was dumbfounded, and of course, it never aired. I got a chance to talk with her some more, and was quite impressed by this young woman who was bright and very self-assured.
Layla Jade
My favorite year was probably the last one I went to. There was a lot of entertainment on the show floor. There was one bit of entertainment I did not watch, though. Sure, it was just Matt Zane hanging around for 6 hours, but this involved his hanging from just four hooks piercing his back to break magician Criss Angel's record of five hours and forty minutes hanging from eight hooks. He held up his latest DVD, Punk'd Ur Ass 3, while being suspended in the Pleasure Productions booth. Most directors are looking for a hook to promote their titles, but this is taking it a little far. They also had a lot more BDSM demonstrations than in year's past.
Hands down, though, my favorite show that year was at the Abby Winters booth, their very first time at the show. It was not really a booth though. It was a large rolling expanse of astroturf lit to look like it was outdoors. You could sit on the grass and challenge any of the girls to a game of chess. But the more formal show involved as many as 10 of the Abby Winters models on the grass, slowly stripping from jeans and shirts to bras or thin short camis and panties with the Abby Winters logo on them. They then went into yoga stretching routines. Then they paired off in groups of two or three and started making out with each other on the fake grass. But the making out wasn't fake, they were seriously getting into making out, pushing at the boundaries of what I thought you could get away with at these shows. It was awesome to watch and very sexy.
Abby Winters girls demonstrating their compatibility
It had to be real, because the whole point of the Abby Winters site is to present young natural women from Australia who simply do what they enjoy doing with other girls in front of the camera. It was the girl next door look. No direction, they just do what they find fun at the moment. The young women do not consider what they do porn, and they were all remarkably enthusiastic and unjaded. It was quite refreshing. I interviewed several of the girls and they were delightful.
Their show did not go as planned on the last day, however. It is possible that what happened was set up in advance, but the girls certainly did not seem to expect it.
They started the routine as usual. Once they stripped down, a guy with an enormous gut jumped onto the grass to join them in the yoga postures. He had removed his shirt and was wearing only shorts. After a few moments someone approached him and spoke with him, but he seemed oblivious and continued with what he was doing. The person who spoke with him went off, I assumed, to get security. He did the yoga poorly, often falling over, and the girls had to keep an eye out for him so that he did not fall on them. He did not touch any of them, and had he done that, I think a lot of us would have jumped on the stage and dragged him off. The girls just went valiantly on with their routine, trying to ignore him.
Then comes the part when the girls pair off. I was worried about what would happen at this point, and was nervously looking around for security. Just as the girls were pairing off, trying to do this as far from the guy as possible, a gay man I had been chatting with next to me said, "Gee, I think he needs a partner." He jumped on the stage, grabbed the guy, and started kissing him. And the guy just goes along with it. The audience has been roaring with laughter the whole time, and moments later security showed up to drag him off the grass.
The Men Kiss (the man in the suit is the nice gay man who was next to me)
If it was staged, it was brilliant, but I suspect it was the sort of thing that can happen at these types of shows, when guys get overwhelmed by the sexuality around them and whatever stimulants they happen to be taking. This type of behavior is totally unacceptable, but in this case, it was also funny as hell.
AbbyWinters.com still exists, but a few things have changed. Their offices were raided and CEO Garion Hall (who created the fictitious Abby Winters) was arrested.  He was charged with 54 counts of making objectionable films for gain, and possessing a commercial quality of objectionable films. Eventually the charges were dropped and there was a $6,000 fine. The increasingly hostile environment in Australia forced them to relocate to Amsterdam. The site is now a little slicker, and has a wider variety of material, but still retains some of the charm of the original. There is a lot of free content to enjoy.
My favorite star that I met at AEE was Nicki Hunter. She began her career in 2003, but was sidelined when she was diagnosed with lymphatic cancer. The adult industry got together and raised money to help pay her medical bills. She beat it, recovered, and returned to the industry. I believe that the AEE where I met her was her first since getting better. We hit it off, maybe because we bonded over having to deal with serious medical conditions. This was not long after I was diagnosed with the brain dysfunction that would soon sideline me, making it impossible to work for many years.
I interviewed her and really liked her, and she let me hang around with her and even tag along with her when she did an event at the gigantic Sapphire Strip Club. I got to sit with her group in the VIP section. This is where I said one of the stupidest things ever to come out of my mouth.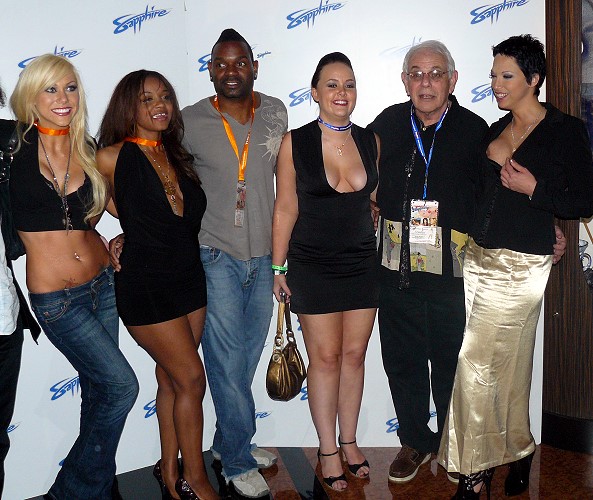 Nicki Hunter (far right) and the gang at the Sapphire Gentleman's Club. Cousin Stevie from Showtime's Family Business is next to her.
There was a lot of flirting and sexiness among everyone in the group. As some of you know, my wife is bisexual. I was thinking of her and how much she would have loved to be a part of this and would have thought that Nicki Hunter was very sexy, so I said "My wife would be quite jealous, she would want to be here." In my world, I don't think about sexual jealousy since I do not personally experience it. She interpreted it the way most people would- that I had a jealous wife and she would not like all the flirting we were doing. Things cooled off, but I stupidly did not understand why at the time. Did I mention I was diagnosed with a brain disease?
Nicki retired from performing in 2014, but she continued to direct, produce, and work as a make-up artist. She was so much fun to be around.
I had done the show for many years, and then took a break for a few years. Two years ago I started covering the shows again, including this year's, which runs from January 23-26.
I discovered that a lot had changed since my earlier coverage. There used to be huge and expensive booths from the major adult film producers. Now the focus is on Cam Girls, with the remaining adult studios having meetings in private suites.
While the show used to have only the weekend open to the public, now the show is open to all the entire time, with the exception of the B2B area which primarily focuses on adult toys.
We'll have detailed coverage in the weeks ahead. You can get more information on the Adult Entertainment Expo web site.